CrestClean New Zealand
Established in 1996, CrestClean has gained an excellent reputation as a capable cleaning service provider. From large multi-site corporations to industrial premises, offices, retail premises, and schools CrestClean's team of over 1300 personnel clean for more than 2700 customers nationwide, making it the largest locally-owned cleaning company operating in New Zealand.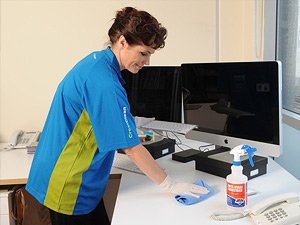 CrestClean provides high quality commercial cleaning services through its carefully selected franchisees. CrestClean sources all the cleaning contracts and invoices the customers. The revenue is licensed to franchisees via the Franchise Agreement. Crest deducts the franchise fee (royalties) and remits payments to franchisees twice monthly.
CrestClean's strong corporate operating systems bring discipline to our cleaning services. The unique proprietary franchise system provides franchisees with a very high level of training and operational support, including the provision of a full set of business administration and compliance services to its franchisees.
Accordingly, the franchise system has enjoyed considerable growth and has gained a respected brand value with both franchisees and customers.
The Team at CrestClean
CrestClean's personnel are franchised owner-operators who physically carry out the cleaning of their customers' premises. They have invested in their own local business and they are committed to providing good customer service because they are working for themselves and are responsible for their operational quality. The result is a consistent high level of service from a motivated cleaning team.
Regional Managers lead CrestClean's operations in their local area. They have sound industry knowledge and provide a solutions based approach to managing the customer relationship. Communication is the most important part of account management – CrestClean's Regional Managers maintain direct contact with customers, attending to any issues professionally and ensuring customers receive a quality service.
CrestClean's Admin Services is our national support office that provides corporate services to customers and franchisees. All invoicing and contract administration and the call centre is centralised, we operate Microsoft Dynamics GP and Microsoft Dynamics CRM as a leading edge IT platform.
With over 15 years of interfacing with customers ranging from large corporations to small businesses, CrestClean is well known for its professionalism in managing long-term customer relationships.