International Master Franchise Opportunities
CrestClean offers master franchise opportunities with a fully integrated business system and Information Technology (IT) platform for the operation of a large scale cleaning company.
Background
Developed in New Zealand, CrestClean has been operating since 1996, and now has over 378 franchised business operators in New Zealand, involving over 1300 personnel in total.
CrestClean's first international master franchise opportunity has been successfully established in Delhi, India. CrestClean India provides cleaning (housekeeping) and property services for a selection of large-scale sites. With the growth and westernisation of Indian cities, there is strong demand for property services provided to a western standard. CrestClean's New Zealand developed training programmes have been very successful in preparing local personnel for a career in the cleaning industry.
Business System
CrestClean's proprietary systems include industry leading training programmes, operational procedures, Health and Safety protocols, marketing, Internet and customer service systems. The Information Technology (IT) system operates on a proprietary platform of Microsoft Dynamics GP and Microsoft Dynamics CRM, providing invoicing, payments, customer information and communications, call centre, job scheduling, centralised billing and financial compliances.
The IT platform will be customised to suit different markets and regulatory environments. The business structure will also be varied to suit different markets. For example, in New Zealand where costs of labour are relatively high, the business operates as a franchised owner-operator model, where the cleaning services are provided by franchisees who have purchased a CrestClean franchise. In India, where cost of labour is cheaper, the structure is that of Regional Master Franchisees based in different cities and provinces who build and operate an employee based business model.
In both cases the IT platform has been provided by CrestClean, with centralised call centre, administration, job scheduling, training, invoicing and payments.
A standout feature of CrestClean's business system is the training programme. This features many graphics and illustrations that aid learning and assist with comprehension by different cultures and levels of literacy. The comprehensive programme educates personnel in modern cleaning procedures, including Health and Safety, environmental protection, customer services and quality assurances. All manuals and documentation can be translated for local use.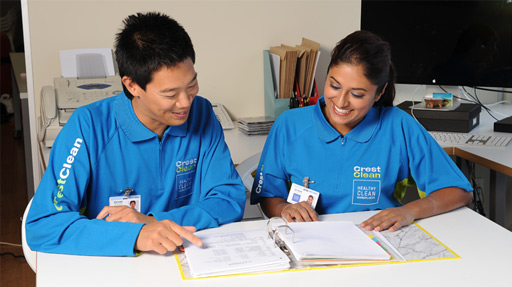 CrestClean staff are professionally trained in the latest techniques of cleaning and hygiene.
Country and Large City Master Franchise Opportunities
CrestClean's business system is available to purchase as an International Master Franchise for a particular city or country. This comprehensive business system offers a complete solution to capitalise on the growth of the cleaning and property service marketplace around the world.
This is a high level master franchise opportunity, suitable for successful business people, entrepreneurs or corporations who would like to develop and grow an efficient modern business with contracted cash flows and growth linked to the dynamic growth of cities, buildings and urban populations.
The expectation is to capture a stake of the growing market for cleaning, hygiene and property maintenance services, utilising the international systems, processes and compliances that are part of the CrestClean business system. Target turnover is US$100 million.
The scope is to approach the market in a serious manner, marketing a modern 'western-standard' cleaning service to international companies, business people and prominent local real estate owners.
Interested parties must have local market knowledge and the appropriate balance sheet and financial resources to fund the growth of a large scale cleaning company.
Level of Investment:
Master Franchise Fee:  US$175,000    
System development:   US$70,000
Total Investment:           US$245,000
---
Returns
Cleaning companies in western countries have grown to very large and profitable enterprises. They claim a significant share of the cleaning marketplace as compared to services conducted directly by employed staff.
Industry experts agree that building maintenance and related industries are virtually "recession-proof". Despite economic swings, buildings, offices and workplaces must be cleaned daily.
The CrestClean master franchise opportunity can provide the Master Franchisee with significant financial returns.
There is the potential to create multiple revenue streams, including income from cleaning, housekeeping and hygiene services, income from franchise sales, income from sales of consumables, income from the provision of other contracted services including property maintenance, window cleaning, carpet cleaning, and other services that customers may request, for example. In India 'Houseboy' and 'messenger boy services' are requested.
---
In summary the CrestClean's Master Franchise opportunity enables the Master Franchisee to:
Grow a large-scale cleaning company in their region, with proper international systems, training and processes.
Create a long-term business with re-occurring cashflows and durable competitive advantage.
Benefit from the growth of the cleaning, hygiene and property maintenance services marketplace.
Click here to request CrestClean's International Master Franchise Information Memorandum
Act now to stake your claim in the rapidly growing cleaning, hygiene and property maintenance services marketplace!