Corporate Profile
CrestClean is a brand owned by Crest Licensing Systems Limited, a high growth licensing company with a proven business model, established cashflows, and clear expansion opportunities.
Based in New Zealand, Crest Licensing Systems Limited was incorporated in October 2000 to act as the holding company for subsidiaries Crest Commercial Cleaning Ltd (CrestClean) and Franchise Finance Ltd. The company generates multiple income streams from franchise sales, master franchise sales, royalties on turnover and interest on financing.
The company's board of directors are experienced, qualified and have a broad range of skills suited to the group's business. The board has established a Corporate Governance protocol for the operations and management of the group. The guiding values of the company are: high ethics, integrity and professionalism. The board is responsible for the proper direction and control of the company's activities, including setting strategic direction, approval of significant expenditures, policy determination, stewardship of the company's assets and monitoring of performance.
Strategic Alliances and Associations
CrestClean is a member of the Franchise Associations of New Zealand, India and Singapore. The New Zealand Association provides a 'Code of Practice' and a 'Code of Ethics' by which all its members must abide. The Association's codes provide for an independent scrutiny of relevant material, and full disclosure of information to potential franchisees in order to allow them to make realistic and informed decisions.
CrestClean has a number of strategic alliances with corporate property companies, facilities managers, and other property service providers in order to develop a high quality integrated service. Some of these alliances are international. Many of our customers are multinational, as are the real estate management companies that look after our customers' buildings. There are great future synergies for CrestClean's international expansion to network within these alliances of property managers and customers.
Business Systems
CrestClean's business systems provide a comprehensive set of operating procedures, which follow 'best practice' industry standards for a modern cleaning, hygiene and property services company.
The business focuses on obtaining higher margin contracts where the customer appreciates quality of service. Comprehensive training programmes and formal quality assurance programmes promote a high contract retention rate.
Intellectual Property
Full branding and marketing
Unique, licensed corporate operating systems
Documented business processes
Comprehensive training systems
Internet domains, registered trademarks
Future Opportunities
CrestClean's strategy is to expand internationally by promoting country and large city Master Franchises. Our short-term focus is to open new territories in Southeast Asia and India, where there has been huge real estate growth and investment by multinational corporations. All buildings need cleaning, and all new buildings should be cleaned to international standards.
Franchising is also growing as a business format around the world. Not only does it bring strong brands to a local marketplace, franchising brings modern business systems, marketing, IT and training systems to new territories. It is a well-known fact that the success rate of franchise-format business systems is very high compared to non-franchised businesses.
CrestClean will continue to develop and expand it's support systems and training programmes ensure a position of leadership within both the cleaning and franchising sectors.
New Zealand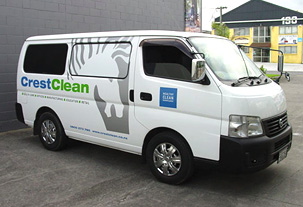 CrestClean vans have distinct branding which provides an eye-catching mobile billboard for our services.
New Zealand is a small country with a highly developed commercial infrastructure. It is stable western democracy, with first world standards of education, healthcare, communication and technological systems. There is a culture of innovation, and many successful international products and businesses have been developed in New Zealand.
International companies like Nokia and Ericson have used New Zealand for research and development, and as a test-market for new technologies. New Zealand consumers adapt to new technology readily, and there are advanced technologies in banking, payments systems and e-commerce that have been developed and implemented, and are now being exported internationally as proprietary systems.
Many New Zealand businesses export their products or services, or have expanded internationally. Underpinning these success stories is a business platform, training, and an IT system. For example: LES MILLS TM who provide music and exercise routines for group fitness classes to more than 13,500 gym studios in 75 countries.
An international entrepreneur can have confidence that technology systems developed in New Zealand will be robust, comprehensive and creative.